Since Business Explorer (BEX) Suite was introduced, back in 1998, SAP's portfolio of Business Intelligence (BI) tools has continued to grow. The first major boost came in 2007 with the acquisitions of BusinessObjects (BO) as well as Outlooksoft (BPC) and their software products. In 2015 the now called Analytics Cloud was introduced enhancing the portfolio once more. By then, however, a point had been reached where it became difficult to keep track. This vast selection of different products lacked a clear roadmap and guidance for SAP customers. And making the right decision for a future proof BI frontend was a hard thing to do given the diversity.
The result: customers started to use a confusing variety of tools. This could be just the BEX suite as it is still in maintenance, a mixture of different BO products or even a mixture of BO and BEX. In addition, and quite understandably, many customers intended to protect their investments and consider every new tool introduction carefully, without knowing if their current tools are future proof and meet their future demand.
Cloud first provides for new direction
Given SAP's strategy of pushing cloud software and services, it now appears that one of the analytical frontends could outshine the others. Analytics Cloud (SAC) is the product, which introduces future improvements, very frequent enhancements and bug fixing. Today already, the most common use cases like standard reporting, dashboards, planning or ad hoc analytics are covered by SAC. The tool itself, from our experience, seems a lot more intuitive, especially compared to BO Web Intelligence or Lumira. Clearly, SAP has learned a lesson and again shows better guidance in terms of choosing the right analytics frontends. Since 2020 SAP Analytics Cloud features a new add-in for Microsoft Excel, which also works with web-based versions of the Office suite. It seems, that SAP now succeeds in consolidating the BEX and BO products and moving them to a modern future-proof environment.
Possible migration paths
In many blogs and SAP notes there are hints, that Analytics Cloud is the recommended successor of the above-mentioned products. So, the ultimate question no longer seems to be 'Which tool to choose' but 'When and how to migrate'.
The following matrix shows a high-level overview of possible migration scenarios. It does not cover every detail but should give some hints on risks and chances.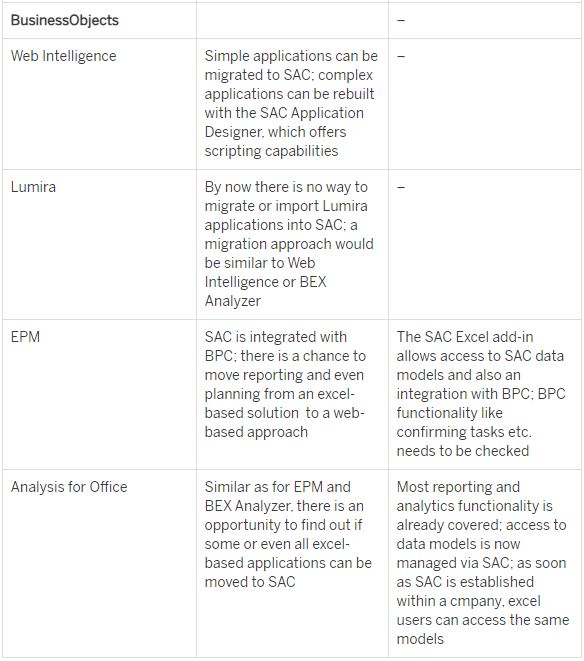 Getting prepared
There are a number of prerequisites when migrating to SAC. Most are of a technical nature, e.g. network settings and upgrades to related systems. Existing dashboards and standard reports for example can already be replaced. But switching to a modern tool like SAC creates much more opportunities, especially through the features that enable BI self-service. However, these require more preparation than just technical migrations: organizational changes for example, like establishing a decent key user structure and a well-defined authorization concept.
Further technical improvements with SAC strongly depend on the available data sources. Often, a data warehouse like SAP BW is one of the main data sources, delivering a harmonized data model. To allow self-service analytics for non-technical users, all directly accessible datawarehouse layers should have a clear, easily understandable structure, which is also free from inconsistencies. For instance, the harmonization of master data (like InfoObjects) is a key aspect.
Conclusion
Bottom-line of recent hands-on experience with SAC: the product has matured a lot. As of yet, it offers good coverage of many BI and analytics scenarios and shows constantly growing stability – enough reason for SAP customers to prepare for migration and leave their on-premise frontends behind. Still, introducing SAC in an organization is not a quick and easy task. Many users are in doubt about the move and are seeking advice. With good support from SAP and external partners, adopting SAC is a worthwhile endeavor and a meaningful project to start. Always remember that having top management support is a very decisive factor and starting with a small but well-chosen set of reports and analytic applications is the beginning of a rewarding journey.